I am a problem-solving textile design and manufacturing professional with a broad range of skills. I have designed and produced soft goods such as backpacks and similar performance pieces, as well as one-of-a-kind clothing items. I am passionate about building cohesive, creative items through both participating and leading careful company management and intentional team training. I am not afraid to try new design approaches and am committed to finding joy both in successes and failures.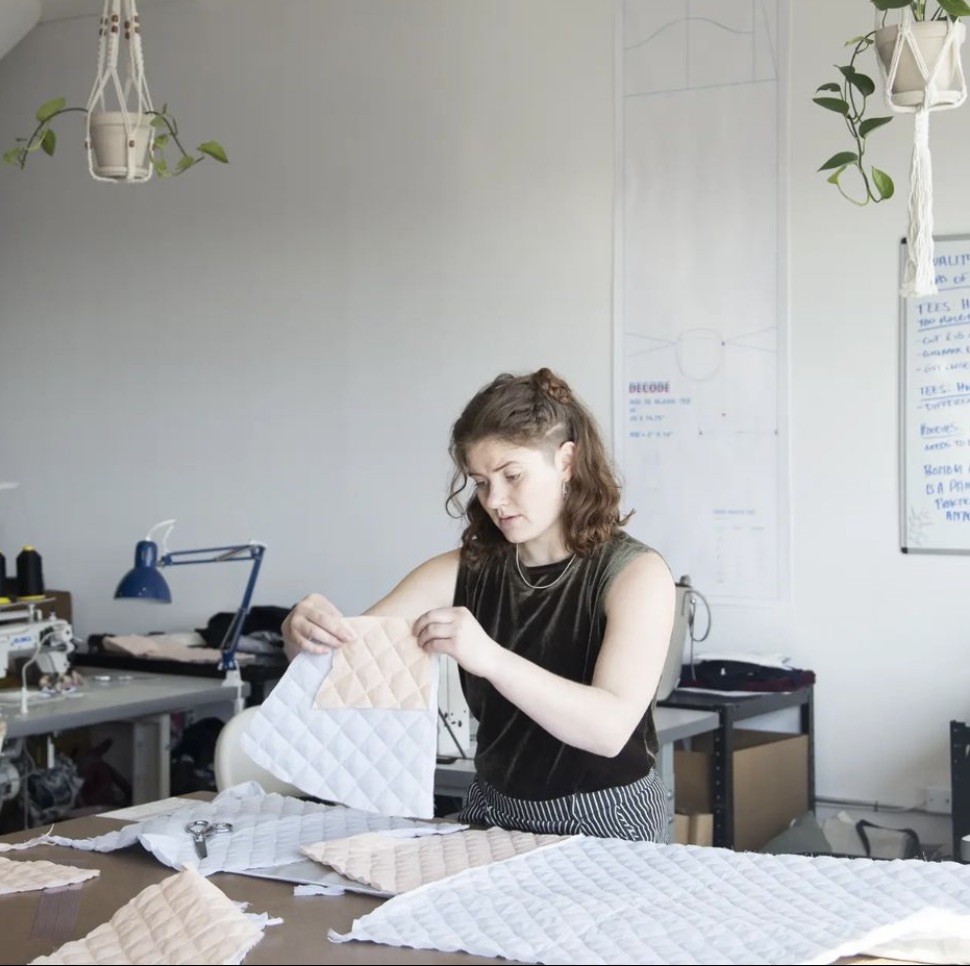 Education
BFA: Industrial Design 
Rochester Institute of Technology
Rochester NY
Skills 
Tech Pack
Materials and process
Managing production
Drafting patterns
Single needle
Walking foot
Four thread serger
Five thread serger
Cover stitch
Prototyping
Illustrator
In-Design
Pattern Pro
Sketchbook Pro
SolidWorks
Fusion 360
Procreate illustrations
Sketching

Ratio – Design Assistant
Manhattan, NY, January 2023 – Present

Established in 2018 by Shenghao Li. The brand focuses on fine leather goods, referencing vintage styles with the clean-lined utility of modern life. Luxury purses, clutches, bags, and accessories are made from the finest Italian leather.
Decode MFG – Floor Manager
Brooklyn, NY, October 2021 – October 2022
A zero-waste apparel designer and manufacturer that specializes in eliminating garment waste through smart pattern engineering. Focused on high-quality craftsmanship, with innovation and sustainability at its core.
Three Looms – Sales and Design Assistant

Brooklyn, NY, 2016 – Present

Learned about traditional Japanese weaved fabrics and representing the company's exclusive relationship with several limited-run fabric mills in rural Japan. This past year I was hired to design and create products from sample fabrics. 
Portabrace – Design Assistant 
Bennington, VT, January 2019 – May 2021
Custom bag and case design and manufacturing company, with a focus on producing high-performance cases, bags, and equipment covers built to withstand the harshest field conditions of the film industry.
Southshire Community School  – Teaching Assistant
Bennington, VT, September 2020 – June 2021 Temporary employment during COVID

Teaching Assistant at a student-centered, teacher-inspired progressive school where an emergent curriculum is driven by the children's interests and inquiries.
Thought At Work – Senior Event Coordinator
Rochester, NY, 2015 – 2017 In-Session
Oversaw the planning and production of a three-day, student-run design conference that brought together some of the best-known industry professionals and hundreds of students for a weekend of collaboration and inspiration.
The Ski Company – Retail
Rochester, NY, October 2017 –  March 2018
Worked in the retail department selling clothing and thermal gear, base layer, and gloves.
Margaret's House – Teaching Assistant
Rochester, NY, 2015 – 2017 In-Session
On campus daycare, pre-kindergarten, and kindergarten facility that serves the RIT community by caring for and helping develop the children of staff and students. 
Nanny
Brooklyn, NY, 2014 – 2017 breaks
I became a full-time primary caretaker of two children (ages 6 – 11)
EquiCenter – Volunteer
Honeoye Falls, NY, 2016 – 2017
PATH certified therapeutic horseback riding facility.
Berle Farm – Farm Hand
Hoosick Falls, NY, 2009 – 2014
Berle Farm is a family owned self-sustaining solar-powered dairy and produce farm.